Height: 6'3"
Weight: 340lbs
Squat: 900lbs
Bench: 600lbs
Deadlift: 850lbs
Total: 2350lbs
Zydrunas Savikas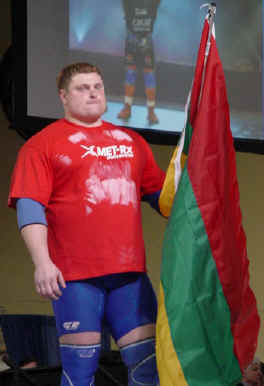 Zydrunas started training for strength sports at a very young age. His first competition was at the age of 16, which he won.
He has twice finished 2nd in the European powerlifting championships and twice finished 2nd at the Worlds Strongest Man contest.
Zydrunas has also won the Arnold strongman competition for the last 2 years in a row. The Arnold strongman is one of the heaviest contests around.
At the Arnold strongman he set the world record for the most overhead presses of the famed Apollon's Axle. The axle weighs 366lbs and the bar is 2 inches in diameter. Just cleaning the axle to the shoulders is a task in itself.