Height: 191 cm.
Weight: 145 kg.
Squat: 300kg x 3
Deadlift: 280kg x2
Loglift: 175kg
Vasil Virastyuk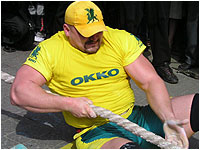 Vasil Virastyuk has resently made a big splash on the international strongman scene. He capped off a excellent year with a 3rd place finish at Worlds Strongest Man.
Many consider him to be the most explosive athlete in international strongman today. This explosiveness can be seen in events like the loglift were he litteraly throws the log overhead.
That explosive power comes from his career as a shot putter, a event were explosive power is a must. He was one of Ukrainia's best shot putters ever.
The future looks bright for Vasil. He is still young (under 30).And will only get even better over the next couple years. There is a very good chance that he will win WSM in the next couple years.