Magnus Ver Magnusson won the Worlds Strongestman contest in 1991, 1994, 1995, and 1996. He also won them while competing against some of the greatest competition. Athletes such as Gerrit Badenhorst, Riku Kiri, and Gary Taylor just to name a few.
Over his career he has also won a vast number of other titles as well. He is multiple times been Icelands Strongestman and Icelands Strongest Viking. He also won the European powerlifting championships and held several powerlifting records as a junior.
Magnus Ver Magnusson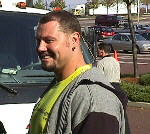 Magnus had the ability to win any kind of event. Be it a pure power event such as the squat or deadlift, or a more endurance based event like the atlas stones of a loading event. He was able to look at a event and see the easiest way to perform it.
Magnus is in semi retirment now. He mostly performs refing duties at major contest around the world. On occasion he still competes, usually just in Icelands Strongest Viking or in the powerlifting contest were he resently set a Icelandic bench press record.